You Know You Want It!
Written By
RC: Ya know, I sure would like a GFYS iPhone cover for my phone. Anyone know where I can get one? Oh wait, I know where! At the AdventuresInTwilighting Cafe Press Shop!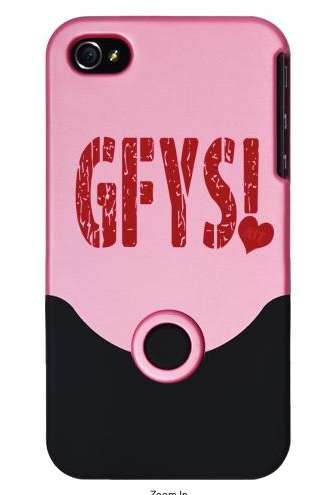 PS: HAHAHA! Awesome!
SMSA: I saw one that says Edward is s V.I.L.F. I might have to get that one. But what would I tell the kids? "Vampire I'd like to FRIEND?" Like as in on Facebook? ha!
M2MJ: If I had an iphone, I would soooo be buying one of those!! I really need an iphone!
LOL I just have a semi-smartphone, as PS calls it!

RC: But the user makes it smarter, no? But you have to have the matching Tank!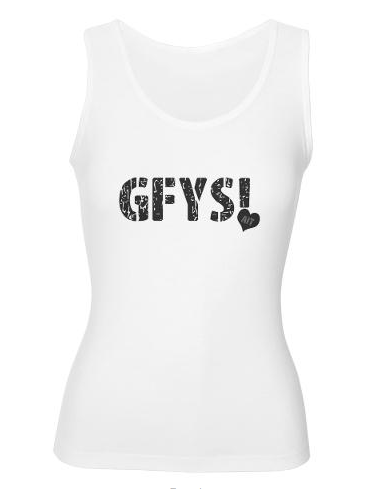 M2MJ: LOVE it!!!!
PS: Oh nothing like a good wife beater…..
RC: Especially with THAT saying on it! LOL Or how about this mug?

RC: Well it is, isn't it? Kristen said so herself! Or this Apron! LOL It doesn't matter if you're a good cook or not!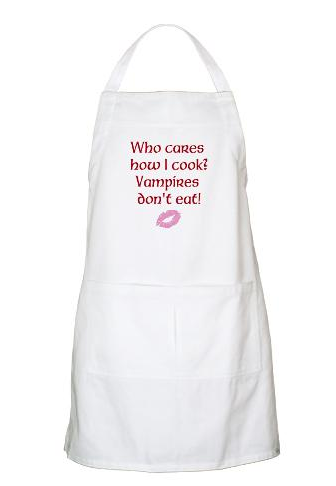 PS: Ok, must have!

M2MJ: That is so cute!! I don't cook, like AT ALL, but I could always wear it around the house!! LOL
RC: See it's perfect for you!
M2MJ: It could make me feel like I'm actually a good wife!! LOL I'm wearing an apron, so therefore, I must have cooked something today, right?!?!

RC: Whatever you say! LOL I'm also a BIG fan of comfy Pajamas! I live in them! Look at all these!!! I FLOVE this one! It kinda goes with that fantasizing about being Bella and hubs being Edward thing I got going! Shhh don't tell hubs…well he might figure it out if I wear these! HAHA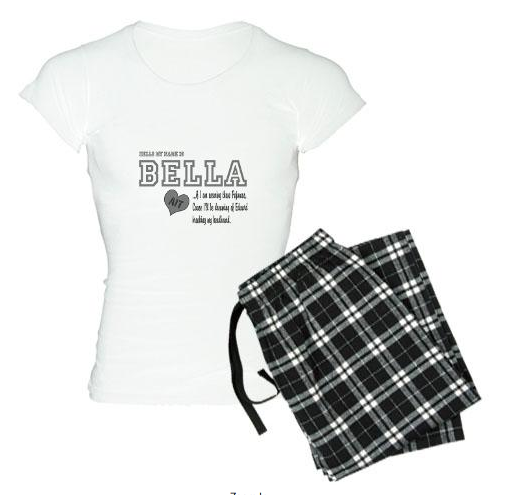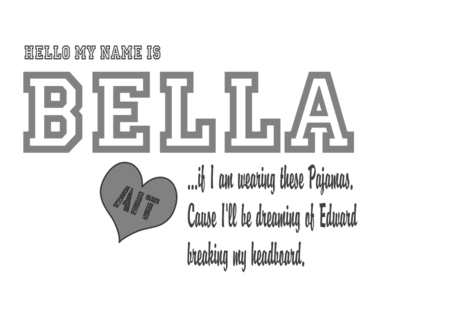 M2MJ: I seriously live in my PJ's (one of the perks of being a SAHM!), and yeah, I need to own those!!
RC: And I love these too! You know Kristen needs a pair of these!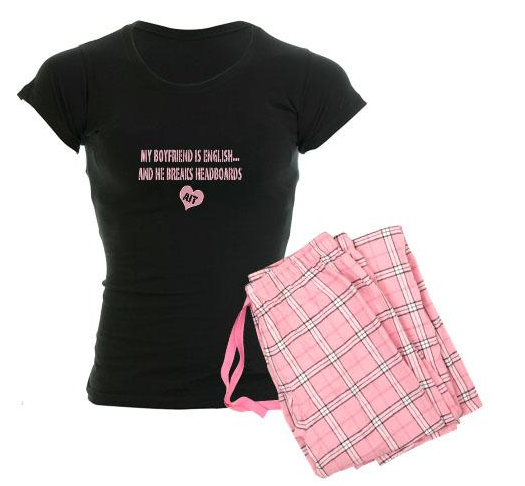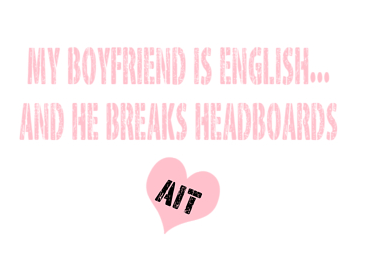 SMSA: THIS. Just this….so much. LOL!
PS: LOVE LOVE LOVE LOVE LOVE!

RC: So cute, right?
M2MJ: I need to own these as well!!!! LOVE them!!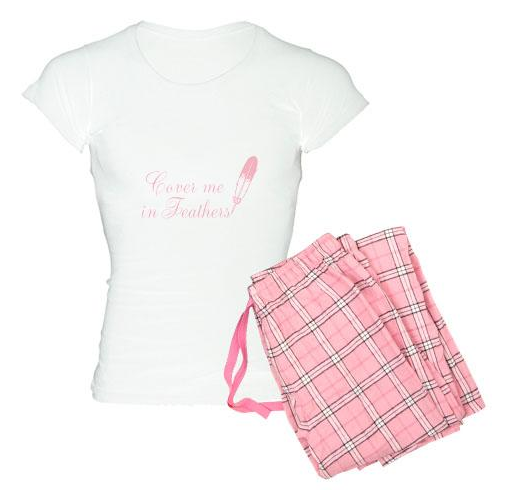 SMSA:  Oh. My.
RC: And my personal fav: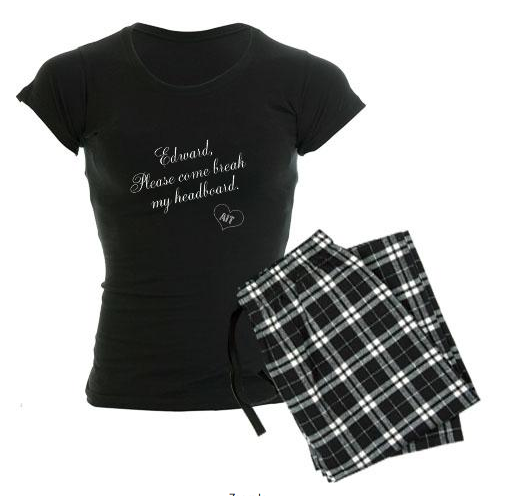 SMSA: DING! We have a winner!
RC: In case you can't see it, those say: Edward, Please come break my headboard. Well, can you? Please? LMAO!
M2MJ: Wow!!! So that's 4 pairs of PJ's!!! Almost a whole weeks worth of outfits for me!! LOL
SMSA: If Edward is coming to you on the last few nights of the week….you won't need PJ's!
RC: I'm sure we'll have MANY more to make up that week! BD press junket is coming soon! Maybe even a pair that says Cullen…Whatever! HAHA And don't worry – we have stuff you can wear outside too! This one comes in 3 colors: pink, blue or white!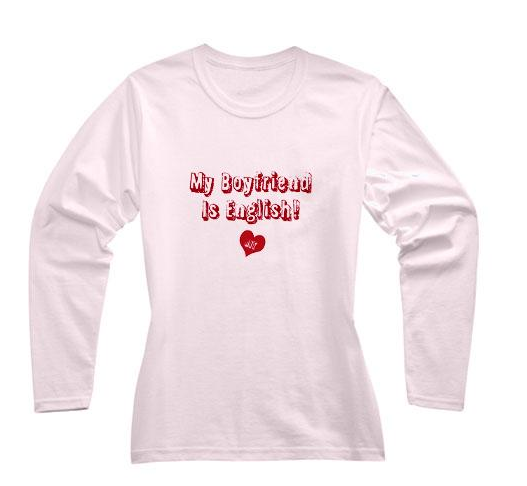 RC: And you HAVE to have the signature hoodie! LOL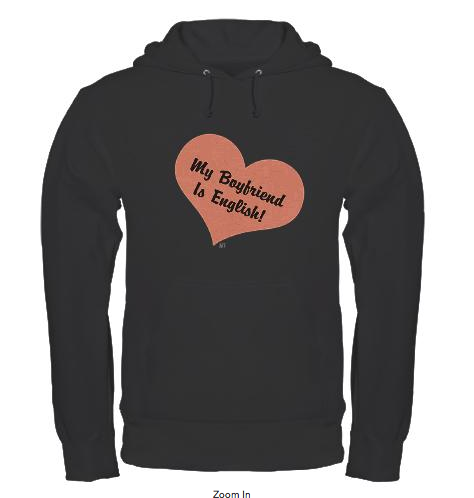 RC: And we won't stop here! Every time we hear something snarky or ASUM come out of KStew or RPatz mouths – you'll find it on SOMETHING at our shop! You KNOW you want one of these fun AIT items! You can tell its AIT by the COCKeyed AIT heart! LOL
M2MJ: Of course you had to throw a cock in there!!!

RC: Yes. *Ahem* Don't see something and want it? Comment below and we'll whip one right up! Coming soon: I'm a Potty Mouth H00ker and I FLOVE my TwiH00rs! and the multi-#-sayings shirt.
SMSA: LMFAO!!!!!  Potty Mouth Hooker! Actually I loved the husband in NYC at the WFE  premiere with the HOOR SECURITY shirt on! The TwiHoors reminds me of him!
PS:  FOR REALZ!  You know that the I'm a Potty Mouth H00ker shirt will sell like hotcakes!
  We know Rob loves him a Potty Mouth H00ker.

SMSA: (so does Lee MacDougalll if you are doing shots!)
PS: Doing that shot with him was AWESOME! Hell, hangin' with him in general was FuckAwesome!
SMSA: Shot? singular? hhmmmmmm? hahaha! Hey – how about a t-shirt or something with that quote Rob had about understanding the obsession with Edward because sex with him would be so good, it might KILL you? I can't remember, was that the Josh Horowitz MTV interview? That would be an awesome Rob quote t-shirt!
RC: We can do ANYTHING! Just name it!

Have an awesome weekend! TGIF!
RobstenCuteness, PrettySparklies, Married2MyJacob & SetMySoulAlight <3s (COCK-eyed)
Don't forget to participate in our BIG follower contest, which ends October 28, 2011! Earn points and win! ..There are also drawings that don't require any points…